CHEESE MENU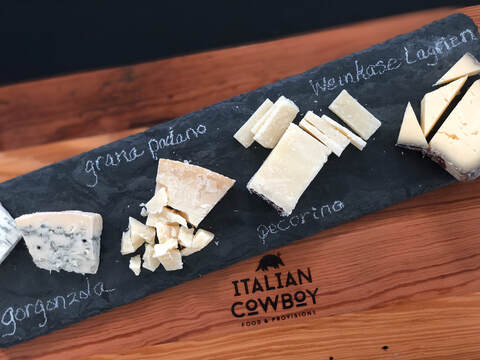 Currently in our cheese case
We sell a variety of imported European and artisan domestic cheeses on a rotating basis. We also stock a range of refrigerated preserved fish. The following cheeses and fish are available for purchase the week of May 18 – 22.
Please note that, while we update this list at the beginning of each week, it is possible that our supply of any given cheese may sell out during the week. We apologize in advance if your selection is unavailable.
Fresh Cheeses and Butter
None available this week
Soft Cheeses
Four Fat Fowl St. Stephen.
Stephentown, New York
. A silky, decadent, triple cream bloomy-rind beauty made from Jersey Cow's milk and fresh Jersey cream.
​
Jasper Hill Farm Harbison
.
Greensboro, Vermont.
A soft, boomy-rind cheese wrapped in spruce bark, Harbison is delicious and creamy when young, developing a woodsy complexity and scoopability when more mature. For a memorable presentation, leave it wrapped in the bark, cut off the top rind and serve with a spoon.
​
Le Chatelain Camembert.
Normandy, France.
Pretty much as close as you can come to the real thing in the U.S. (AOC protected French Camembert must be made using raw milk and therefore, because of its young age, cannot be imported into the U.S.) Made with pasteurized milk, this version still has that creamy, slight funky flavor you recall sitting streetside in Paris.
Nettle Meadow Kunik.
Thurman, New York.
An individual triple-creme brie-style cheese with a twist. Made of both cows' and goats' milk, it's creamy and sweet, but with a tang and complexity added by the goats' milk. Vegetarian. Available by the whole piece only (approximately 9-10 ounces each).
Pecorino Tartufello.
Tuscany, Italy.
A young, earthy sheep's milk peppered with slivers of black truffle. The springy, salty sheep's cheese perfectly compliments the earthy truffles in this Tuscan gem, resulting in a table cheese that is deliciously exotic yet familiar.
​
R & G Eclipse.
Troy, New York.
A delicate, flavorful button of ash-ripened goat cheese. Soon afre its introduction, it appeared on the 2010 and 2011 US Open cheeseboards. Approximately 4 oz. each
Semi-Firm Cheeses​​
Jasper Hill Farm Vault No. 5
.
Greensboro, Vermont.
An intriguingly different cheddar-style cheese, Vault No. 5. is smooth and meltable, but cave-aged, which imparts a complexity to its sweetness not usually seen in such a creamy cheddar.
Weinkase Lagrein.
Alto Adige, Italy.
A delicious, captivating, Toma-style cow's milk cheese. Bathed in the local Lagrein wine and a mix of garlic, pepper and spices, it develops a rich, meaty flavor and texture reminiscent of salume. Try it with – you guessed it – a glass of Lagrein.
Firm Cheeses
Cavemaster Reserve Project X.
Finger Lakes, New York.
This raw cow's milk tomme takes its inspiration from the rugged mountain cheeses of Italy. The wheels are coated with fennel pollen and then bathed in Gewurztraminer from New York's Finger Lakes. The cheese is lusciously moist, with flavors of roasted walnuts, cocoa and anise. Equally at home on a cheese board or melted in pasta, with a glass of Alpine-style white wine. Raw.
​
Grafton Village 1-year Cheddar.
Grafton, Vermont.
As its name suggests, this is a one year old cheddar, but it tastes older and more mature. Salty and sharp, it's a textbook aged cheddar. Available by the whole piece only (8 oz. piece). Raw and vegetarian.
Grafton Village Truffle Cheddar.
Grafton, Vermont.
Truffle. Cheddar. In perfect balance. What more can we say? Available by the whole piece only (8 oz. piece). Raw and vegetarian.
Gruyere.
Fribourg, Switzerland.
A traditional, cave-aged version of the classic cheese made in the Swiss Alps since the 1200's. Aged for a full 12 months, it develops a rich, nutty, sweet complexity that makes it compulsively snackable and one of the most versatile cheeses around. It's equally at home on a cheese board, mixed into a frittata, on french onion soup, in a gratin (try cauliflower for a twist!), in a grilled cheese sandwich or on a cheeseburger (just to name a few options). Raw.
Jasper Hill Farm Cabot Clothbound
.
Greensboro, Vermont.
A clothbound cheddar produced by Cabot and aged at Jasper Hill, it has everything you expect from a clothbound – creaminess, crumbliness, complexity, sharpness and a hint of chivy/oniony allium goodness. The American Cheese Society's 2006 Best in Show.
Manchego (1-year old).
Spain
. Spain's most famous cheese gets its recognition for good reason. Our 1-year-old version of the classic sheep's milk cheese is sweet and complex, with notes of pineapple and the slightest hint of sheep's milk complexity at the very end

​Provolone.
Lombardy, Italy.
A sharp, salty, tangy cow's milk cheese aged for 9-12 months. While it's the classic addition to Italian-American sandwiches, it's also perfect as a counterpoint on a cheese plate. Try it and forget everything you know about mass-produced provolone.
Hard Cheeses
Bianco Sardo. Sardinia, Italy.

A sheep's milk cheese aged 6-9 months. Earthy and dry with a hint of sweetness, it is surprisingly creamy given its age.

​

Fiore Sardo

.

Sardinia, Italy.

A sheep's milk cheese aged 8-10 months and lightly smoked. Sharp, complex and smoky. Close to the rind, the smoke gets more prominent, almost creating two cheeses in one – a smoky gem and a sharp aged pecorino.

Grana Padano

.

Piedmont, Italy.

Made in Italy for almost 1,000 years, it is an aged cow's milk cheese perfect for grating on pasta or including on your next cheese plate. Nutty and slightly salty, it is similar to Parmigano-Reggiano but a bit more mild. Our Grana Padano is aged over 18 months for a more concentrated flavor. Pair it with a bold red or crisp white wine.

Parmigiano Reggiano. Emilia-Romagnia, Italy.

The real deal. A 24-month old Parmigiano, aged twice as long as required to be called Parmigiano Reggiano, for an added depth of flavor and nuttiness. Salty, nutty and sweet.

Pecorino Romano. Lazio, Italy.

A hard sheep's milk cheese made for almost 2,000 years. Salt, hard, tangy and sharp. Can be used for grating but also delicious on a cheese plate.

Piave Vecchio Selezione Oro. Piedmont, Italy.

A 12-18 month old cow's milk cheese. Deliciously nutty and sweet, with texture between firm and hard. A showstopper on a cheese plate. Try it if you like aged Gouda.

Ubriaco Raboso. Veneto, Italy.

A fruity and complex cow's milk cheese. Washed in red wine and aged for 12 months, the wine flavor permeates the cheese, with hints of red wine and blackberry in the center and getting increasingly wine-y near the rind. The name means "drunk on Raboso," Raboso being the red wine in which it's washed.

​
Blue Cheeses
Gorgonzola (Mountain).
Lombardy, Italy.
A 6-9 month old cow's milk cheese. Dense, creamy and with a medium-blue-sharpness. Equally at home for baking or in sauces as on a cheese plate.
Fish
Catsmo Gold Label Smoked Salmon.
Wallkill, New York.
Cold-smoked over fruitwood rather than oak (applewood and cherry wood, Catsmo's most popular smoked salmon is delicate and silky, with a gentle smoky flavor. Kosher.
​
Catsmo Hot Smoked (aka "Kippered") Salmon.
Wallkill, New York.
Flaky and moist with an assertive smokiness, its great on its own, alongside eggs, or for cooking in hot dishes.
Catsmo Candied Salmon.
Wallkill, New York.
The same as the hot-smoked salmon, but first cured in organic maple syrup. A great substitute for bacon!
Catsmo Pastrami Smoked Salmon.
Wallkill, New York.
Cold-smoked and cured with a proprietary mix of pastrami spices. At Russ and Daughters deli in New York, they serve is with sauerkraut, mustard and cheese on a roll! Kosher.
Catsmo Scottish Smoked Salmon.
Wallkill, New York.
Cured in scotch and then, unlike most of Catsmo's other smoked salmon, Cold-smoked using oak. Sweet & buttery. Kosher.
Catsmo Daniel Boulud Tequila Cilantro ("Baja") Smoked Salmon.
Wallkill, New York.
From a recipe created by acclaimed chef Daniel Boulud using Catsmo's Scottish smoked salmon, tequila and cilantro, this might be the perfect salmon for a South Texas brunch. Kosher.
Catsmo Vodka Dill Smoked Salmon.
Wallkill, New York.
Cured in Russian vodka, cold-smoked and covered with fresh dill. Kosher.
Catsmo Smoked Trout.
Wallkill, New York.
Delicately smoked. Moist & flaky, perfect as an appetizer or for salads (both lettuce and mayonaise- or mustard-based)